Festive Centerpieces
Red Candlelight Centerpiece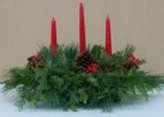 Try our elegant centerpiece made with a mix of balsam, eastern cedar and white pine. Adorned with red candles, pinecones and faux holly berries.
White Candlelight Centerpiece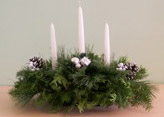 Send a gift of warmth and serenity. This centerpiece is made of balsam, pine and cedar boughs and decorated with white candles, frosted pinecones and faux holly berries. Arranged in a container that is designed to hold water, the centerpiece can be enjoyed throughout the holiday season. Gift box and greeting card included.
Each center piece is approx. 16" long.
$32.95 plus shipping