Wreaths

Classic Balsam Wreath
Try our fresh from the forest wreath, handcrafted with fragrant balsam.
Decorated with real pine cones and faux holly berries, and our eye catching red velvet bow.
22-24" outside diameter
$27.95 plus shipping

30"  outside diameter
$32.95 plus shipping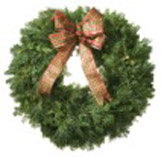 24" Atlantic Mixed Wreath
The 24" Atlantic Mixed wreath is made from a selection of fresh pine, cedar and balsam greens. Decorated with a plaid bow, this elegant wreath adds a Celtic touch to your seasonal decorating. This 24" double faced wreath is shipped in a gift box and includes a greeting card.
$34.95 plus shipping

Add a Brass Wreath Hanger
$5.00 plus shipping